People are still dying nonetheless (...) – despite and because of "all of us." (Max Czollek)
With Love – Ten letters of comfort. From the world, to you.
Ten writers, ten illustrators: ten reflections on the corona crisis in words and pictures. Printed in high quality in ten letters. The READ MY WORLD FESTIVAL sets an analog counterpoint in "stay home" times. For me an honor to illustrate Max Czolleks letter – an author, whom I highly appreciate. You can order "our" and the other artists letters here. (10 letters/40 €)
"With Love – Ten letters of comfort. From the world, to you.

The virus changed everything and this crisis hits everyone. But not in the same way. For some people the hit may still be coming, others are just recovering. From a small disruption to a radical difference. Ten writers from around the world write letters of comfort in these times of crisis. They reflect on a post pandemic age, search for beauty and solidarity and find intimacy in distance. Together they show the wide-ranging worldwide impact of this crisis.
These letters are for you. Do you want to receive them? That's possible. Now that not only our interactions, but also all our cultural activities increasingly move to online spaces, we are creating something analogue. Subscribe and receive ten letters in your physical mailbox. The letters are illustrated by international artists and printed in a unique way. To hold on to and to pass on."
(Quote website Read my world Festival 2020 )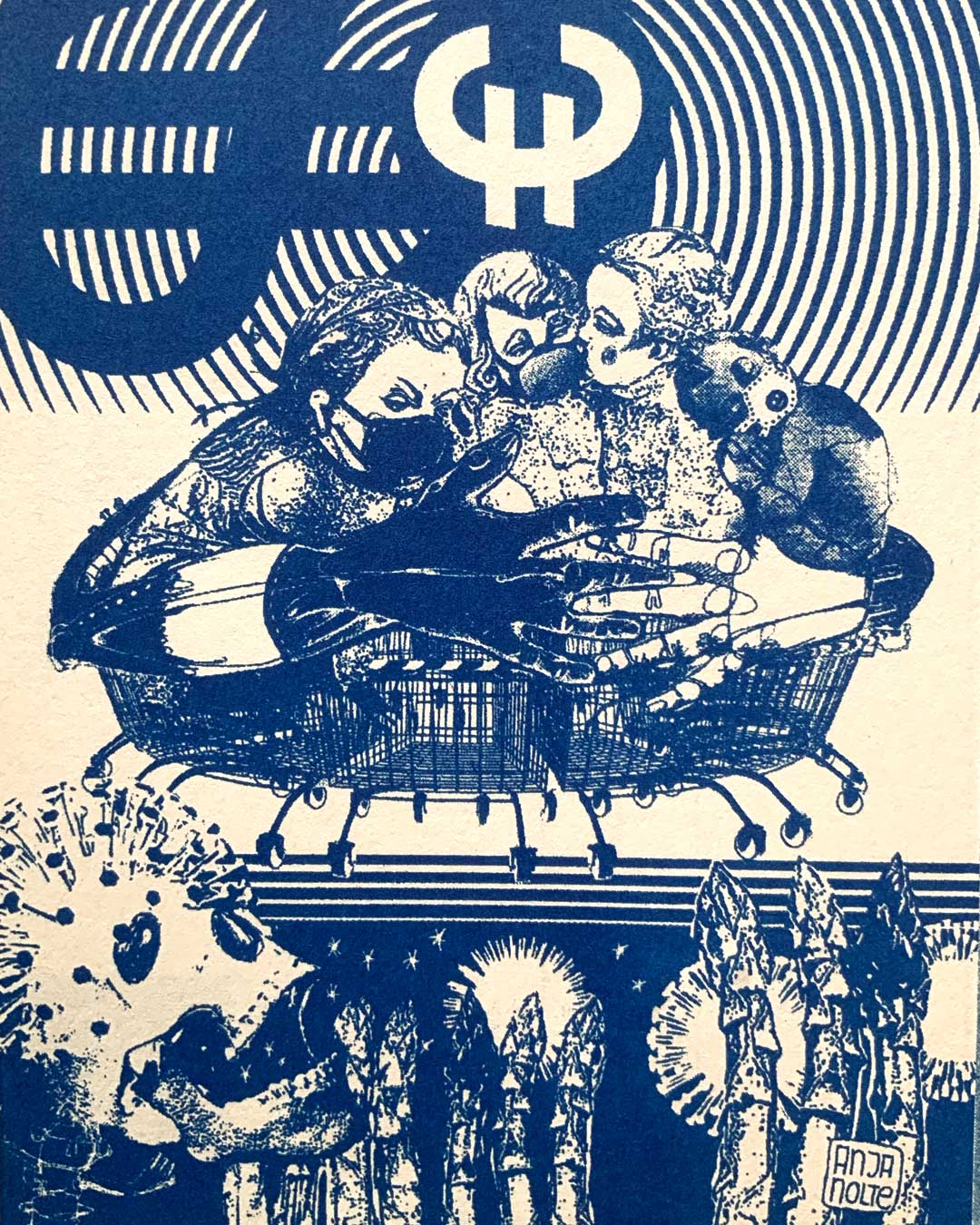 " (…) This need was underscored by a single line in the Federal President's 2020 Easter speech: "You have all saved lives" . Surely "we all" have — through our behavior — contributed to saving particular lives in Germany. But people are still dying nonetheless at the external borders and on German vegetable fields — despite and because of "all of us." Given these dual certainties, those who feel reassured by Steinmeier's speech are simply swallowing the bait of a limited memory and limited solidarity hook, line, and sinker. (…)"
(Quote Max Czollek  / A Letter on Solidarity)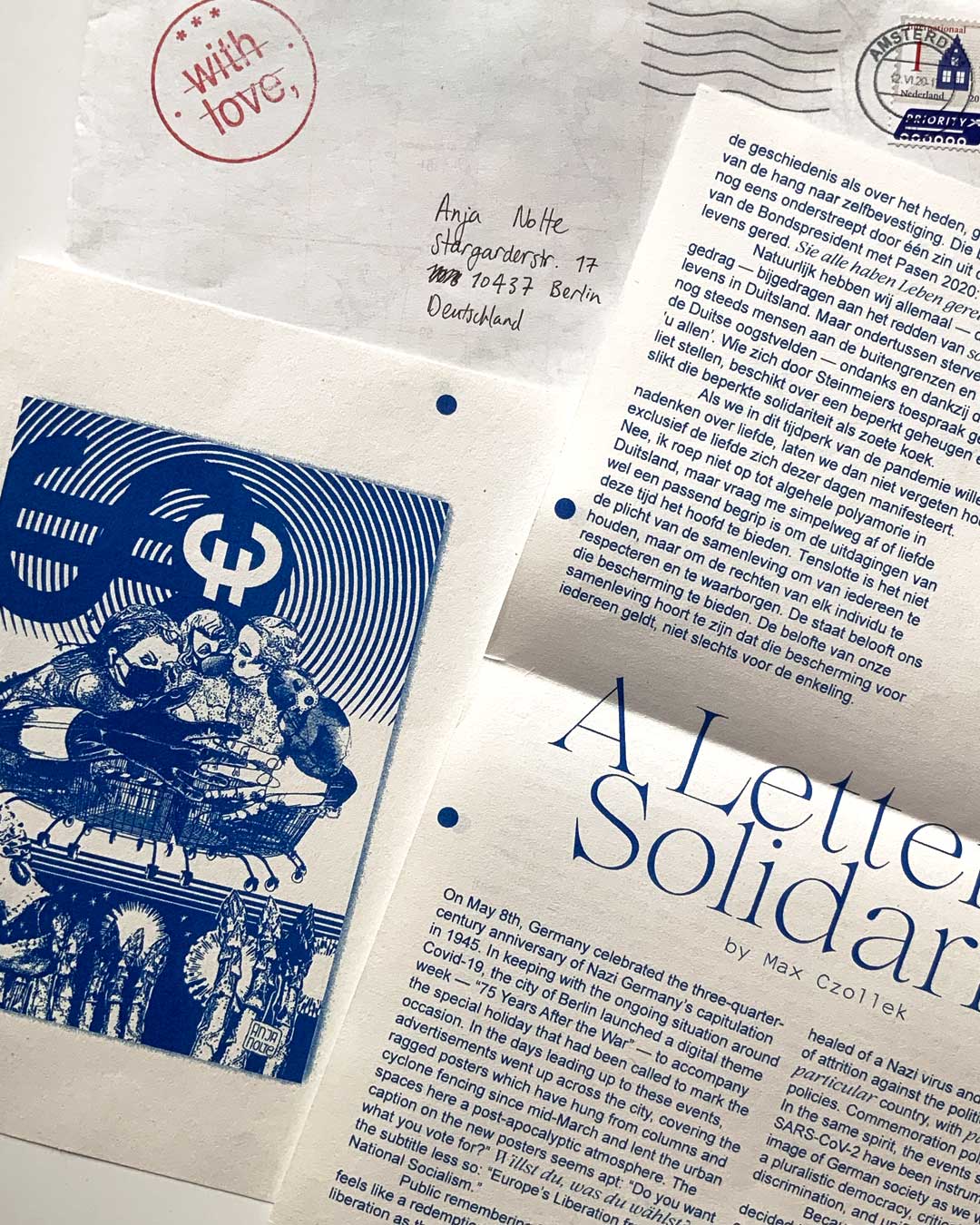 Aber trotzdem sterben immer noch Menschen (...) - trotz und wegen "uns allen".
Zehn Schriftsteller, zehn Illustratoren: zehn Reflektionen zur Corona-Krise in Wort und Bild. Hochwertig gedruckt in zehn Briefen. Das READ MY WORLD FESTIVAL setzt einen analogen Kontrapunkt in "Stayhome" Zeiten. Für mich eine Ehre für den – von mir hoch geschätzten – Autor Max Czollek, dessen Brief illustratorisch zu reflektieren. Doe zehn Briefe samt Illustartinen können Sie hier für 4o Euro erwerben.
"Mit Liebe – Zehn Briefe des Trostes. Von der Welt zu dir.
Das Virus hat alles verändert und diese Krise trifft alle. Aber nicht auf die gleiche Weise. Für einige Menschen könnte der Treffer noch kommen, andere erholen sich gerade. Von einer kleinen Störung zu einem radikalen Unterschied. Zehn Schriftsteller aus aller Welt schreiben in Krisenzeiten Trostbriefe. Sie reflektieren ein Zeitalter nach der Pandemie, suchen nach Schönheit und Solidarität und finden Intimität in der Ferne. Zusammen zeigen sie die weitreichenden weltweiten Auswirkungen dieser Krise.
Diese Briefe sind für Sie. Möchten Sie sie erhalten? Das ist möglich. Jetzt, da nicht nur unsere Interaktionen, sondern auch alle unsere kulturellen Aktivitäten zunehmend in Online-Räume verlagert werden, schaffen wir etwas Analoges. Abonnieren und erhalten Sie zehn Briefe in Ihrer physischen Mailbox. Die Briefe werden von internationalen Künstlern illustriert und auf einzigartige Weise gedruckt. Festhalten und weitergeben."
(Zitat Webseite Read my world Festival Europe 2020 )
"(…) Diese Notwendigkeit wurde in der Osterrede 2020 des Bundespräsidenten durch eine einzige Zeile unterstrichen:" Sie haben alle Leben gerettet ". Sicherlich haben" wir alle "durch unser Verhalten dazu beigetragen, bestimmte Leben in Deutschland zu retten. Aber trotzdem sterben immer noch Menschen an den Außengrenzen und auf deutschen Gemüsefeldern – trotz und wegen "uns allen". Angesichts dieser doppelten Gewissheit schlucken diejenigen, die sich durch Steinmeiers Rede beruhigt fühlen, einfach den Köder eines begrenzten Gedächtnisses und einer begrenzten Solidarität, Haken, Leine und Sinker. (…) "
(Zitat aus Max Czollek / A Letter on Solidarity)
Max Czollek was born in 1987 in East Berlin. He is a poet, essayist, and editor of the magazine Jalta—Positionen zur jüdischen Gegenwart. His most recent volume of poetry, Grenzwerte was published in 2019 by Verlagshaus Berlin. His second nonfiction work, Gegenwartsbewältigung will be published in August of this year.
English translation by Jon Cho-Polizzi.