DIscovering Munich
MOTEL ONE München-Messe
Awards
Joseph Binder Award 2019 SILVER
Münchenreise
Das Motel One München-Messe bietet die perfekte Ausgangslage für alle, die geschäftlich unterwegs sind und die Arbeit mit etwas Vergnügen verbinden wollen. Falls aber keine Zeit für einen Stadtbummel bleibt – kein Problem! Das Design entführt die Gäste auf eine kleine München Rundfahrt und zeigt historische, berühmte und skurrile Motive der Stadt. So begrüßt die typisch bayerische Raute die Gäste bereits an der Rezeption und zieht sich in der Formensprache durch das ganze Haus. Die kunstvollen Illustrationen von Anja Nolte verdichten auf spannende Art die verschiedenen Sehenswürdigkeiten der Stadt und geben damit einen ganz persönlichen Einblick in die Weltstadt mit Herz. (Pressetext Motel One)
Zwei Jahre lang zeichnete sich Anja Nolte durch die Münchner Lebensart, Kunst und Kultur, Sehenswürdigkeiten, das Nachtleben und portraitierte stadtbekannte Persönlichkeiten aus Vergangenheit und Gegenwart. Entstanden ist ein humorvolles, detailverliebtes und dabei informativ narratives Abbild der Stadt, das sie in ihrem Reiseführer "München Skizzenbuch" mit Anekdoten und unzähligen Anregungen ergänzt. (Künstlerflyer)
#unbedingtübernachten Zimmer buchen hier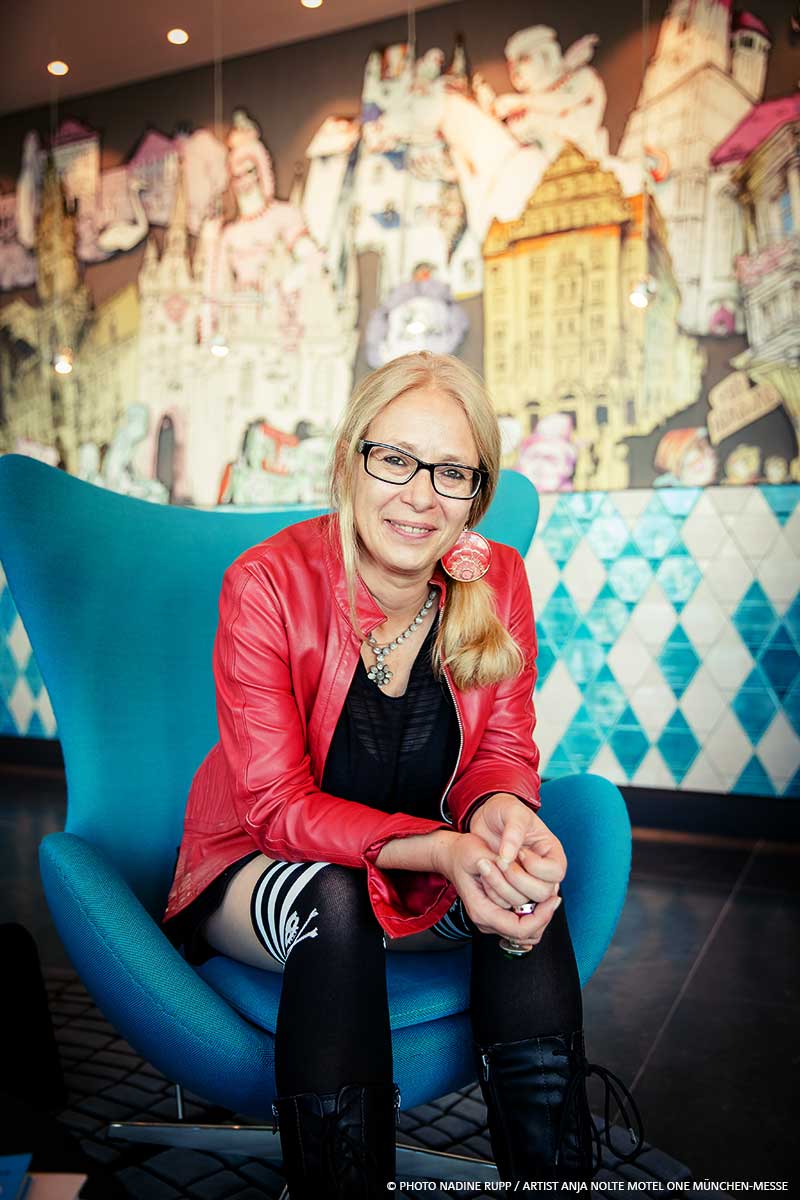 Discovering Munich
The Motel One Munich Trade Fair offers the perfect starting point for anyone who travels on business and wants to combine work with pleasure. But if there is no time for a city stroll – no problem! The design takes guests on a tour of Munich and shows historical, famous and bizarre motifs of the city. The typical Bavarian rhombus welcomes the guests already at the reception and runs through the whole house in the formal language. The artful illustrations by Anja Nolte in an exciting way condense the various sights of the city and thus give a very personal insight into the cosmopolitan city with heart. (Press release Motel One) 
Nolte spent two years sketching her way around Munich's way of life, arts, culture, landmarks and nightlife – right up to celebrated Munich residents from past and present. The result is a humorous, detailed, informative and narrational image of the city, which is supplemented by anecdotes and countless tips in her "Urban Sketching München" travel guide. (Artist Folder)

#amuststay book your room here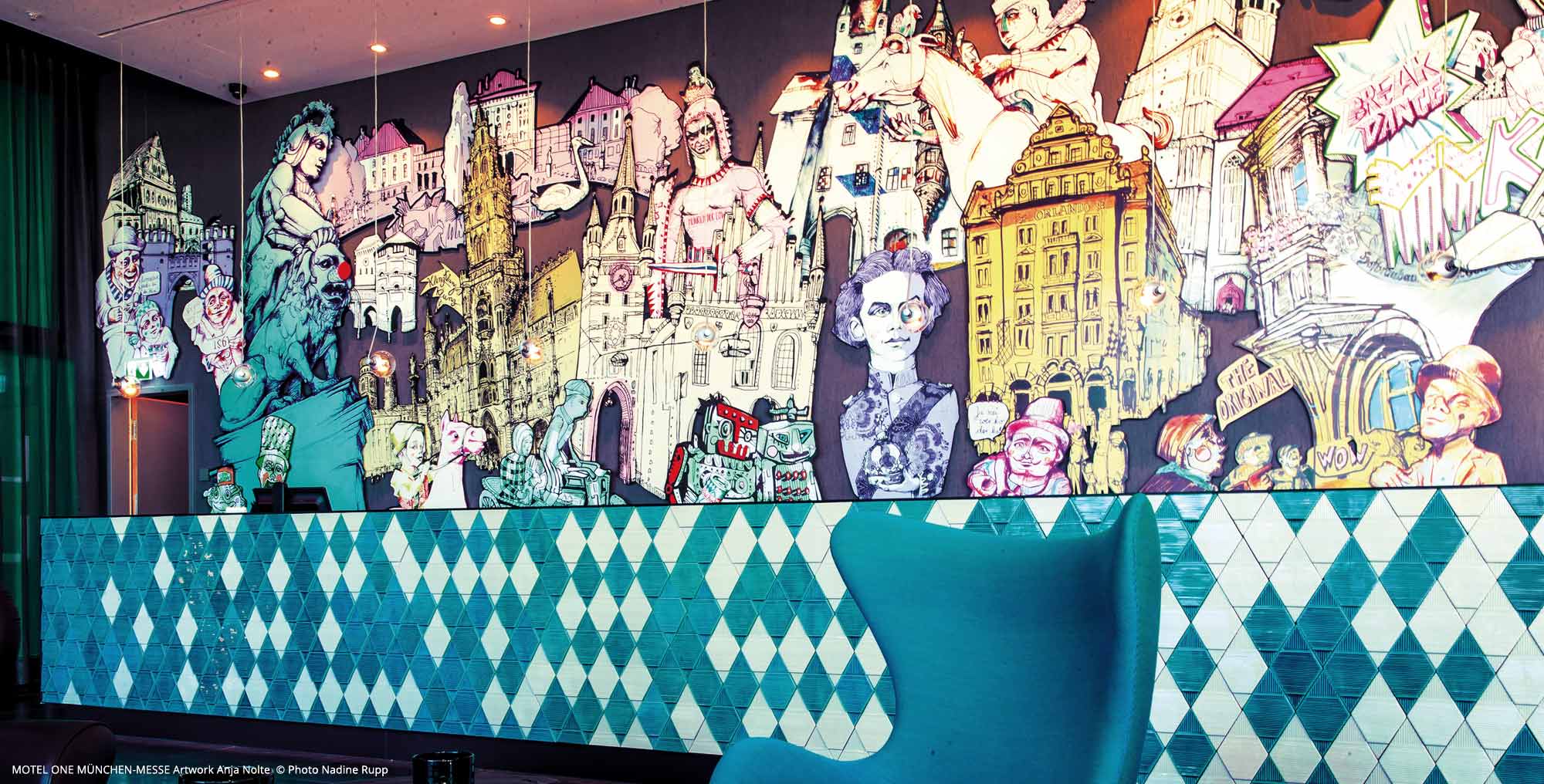 Ankommen und sofort mitten drin sein: Fast alle Münchner Highlights auf einen Blick. Ein herzliches Willkommen vom charmanten Team an der Rezeption, sogar Prinz Ludwig höchspersönlich hat sich zu Ihrer Begrüßung eingefunden. In Begleitung anderer stadtbekannter Persönlichkeiten – zwinkert da nicht Karl Valentin?
Arrive and be right in the middle of it all: almost all Munich highlights at a glance. A warm welcome from the charming team at the reception, even Prince Ludwig himself has come to your welcome. Accompanied by other well-known personalities – isn´t that Karl Valentin twinkling?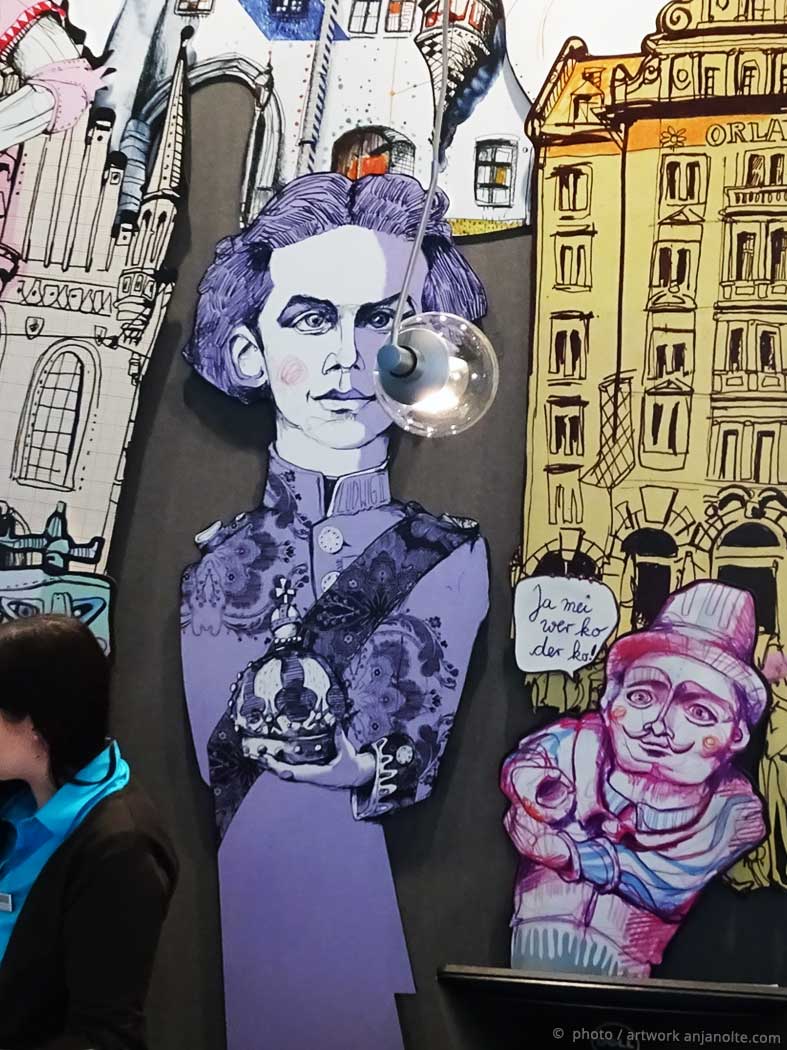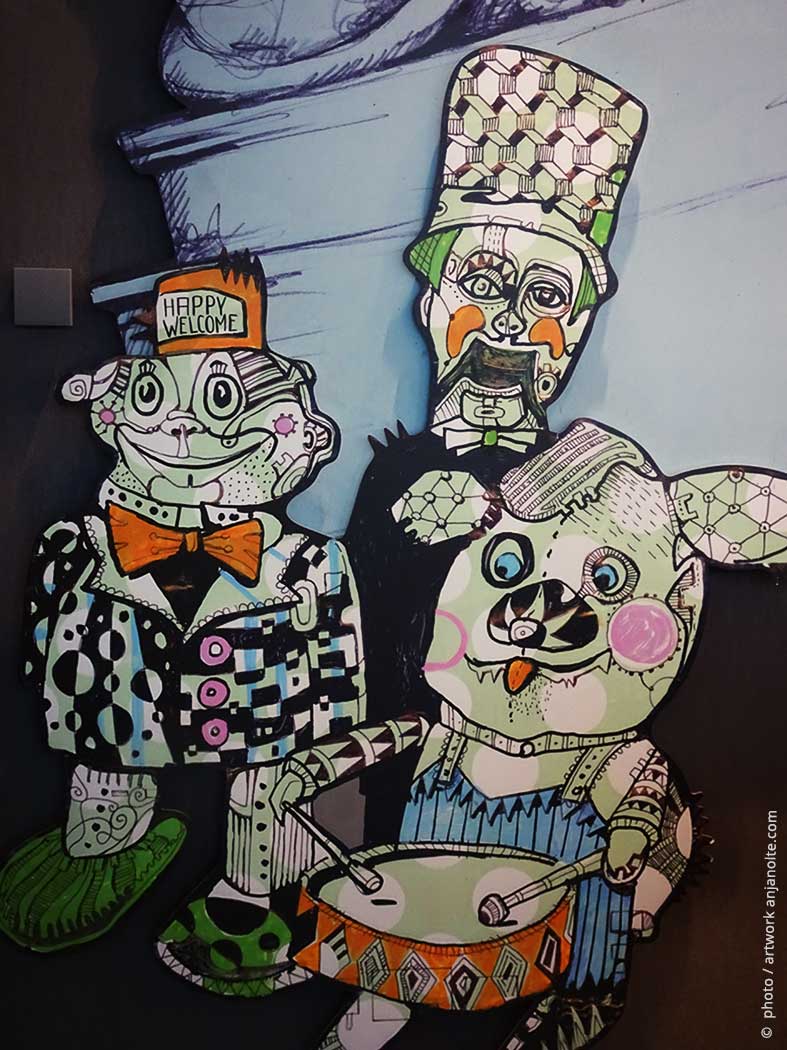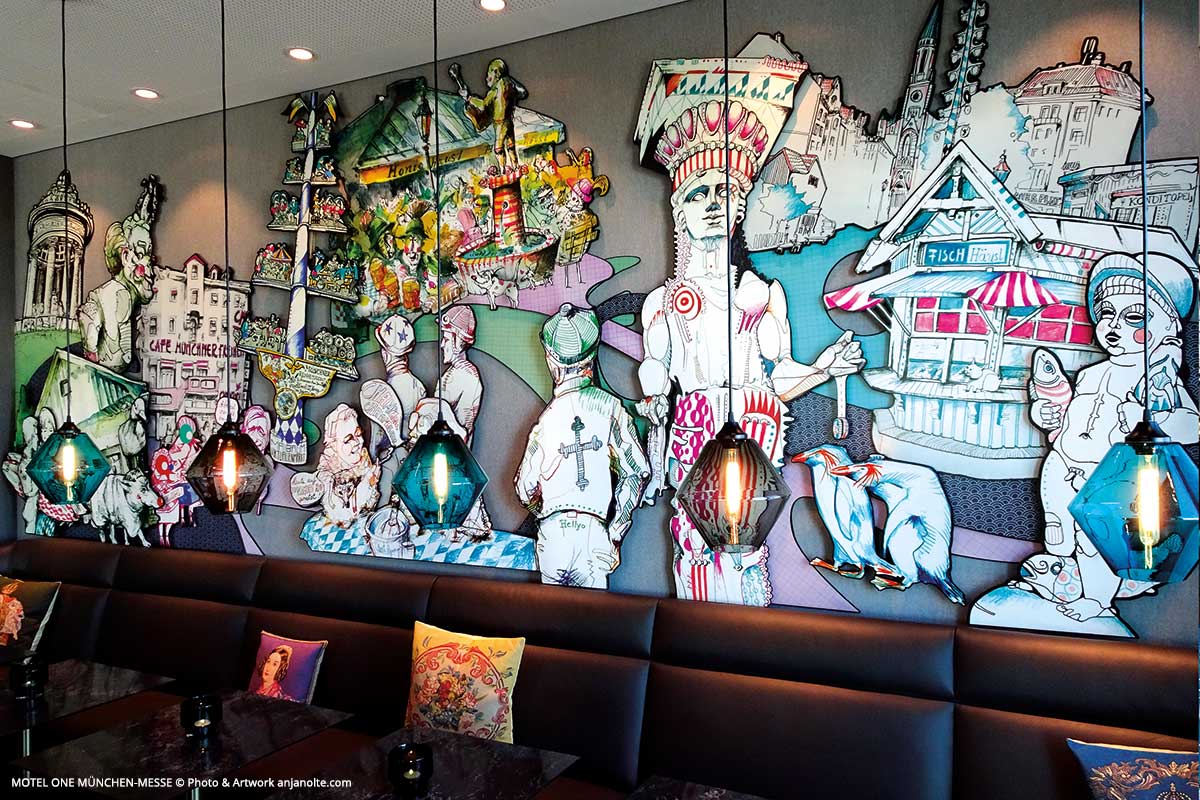 "Guten Morgen München" – Bayerns Metropole bietet vielerlei Attraktionen, Sehenswürdigkeiten und Möglichkeiten zur Erholung. Beim Frühstück, eingehüllt von aromatischem Kaffeeduft, bleibt Zeit sich von der Frühstückswand zu Unternehmungen inspirieren zu lassen. Wonach sehnen Sie sich? Darfs ein kleiner Spaziergang sein? In Fussweite vom Motel One glitzernd strömend, auf und ab: die Isar.
Good Morning Munich – Bavaria's metropolis offers many attractions, sights and opportunities for recreation. At breakfast, enveloped by the scent of aromatic coffee, there is time to take inspiration from the breakfast wall to do excursions. Whats your desire? May it be a little walk? Glistening within walking distance of the Motel One, up and down: the Isar.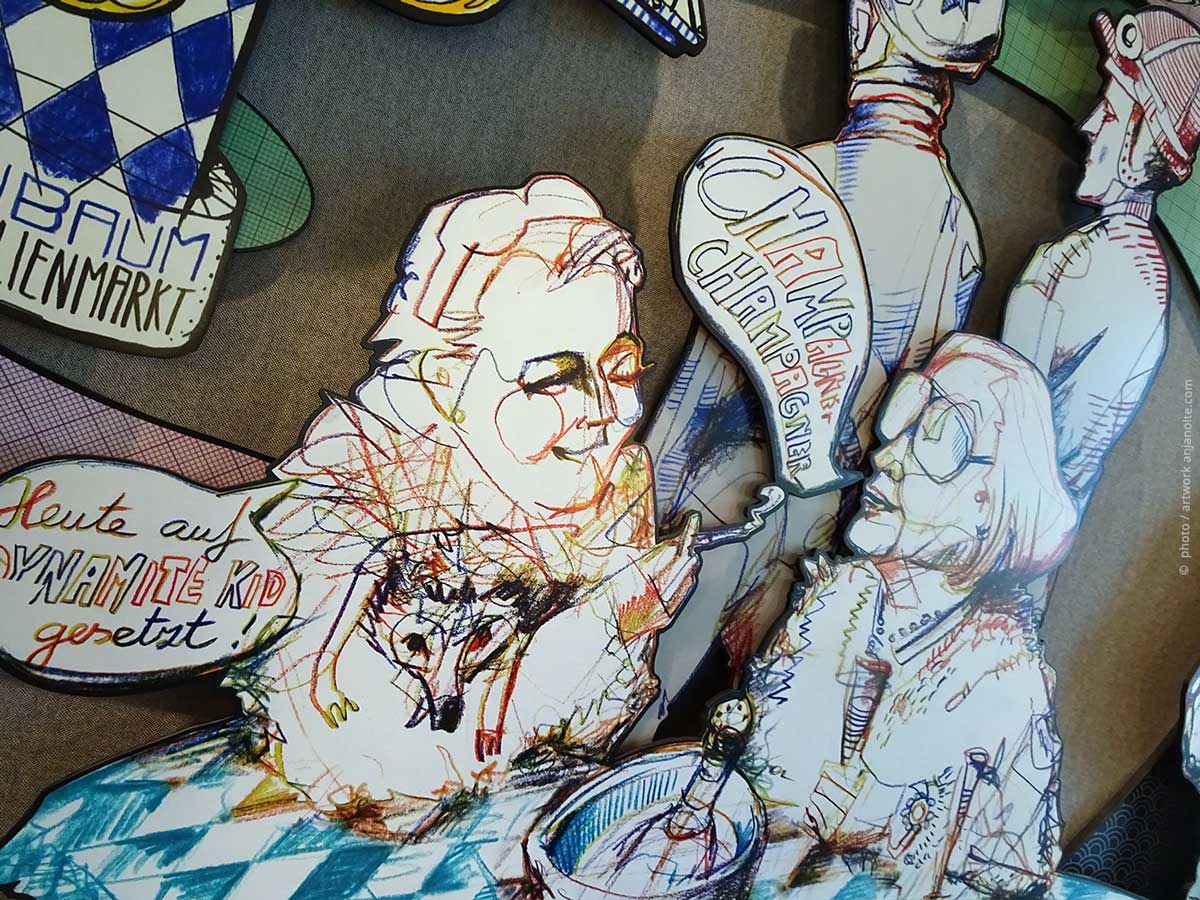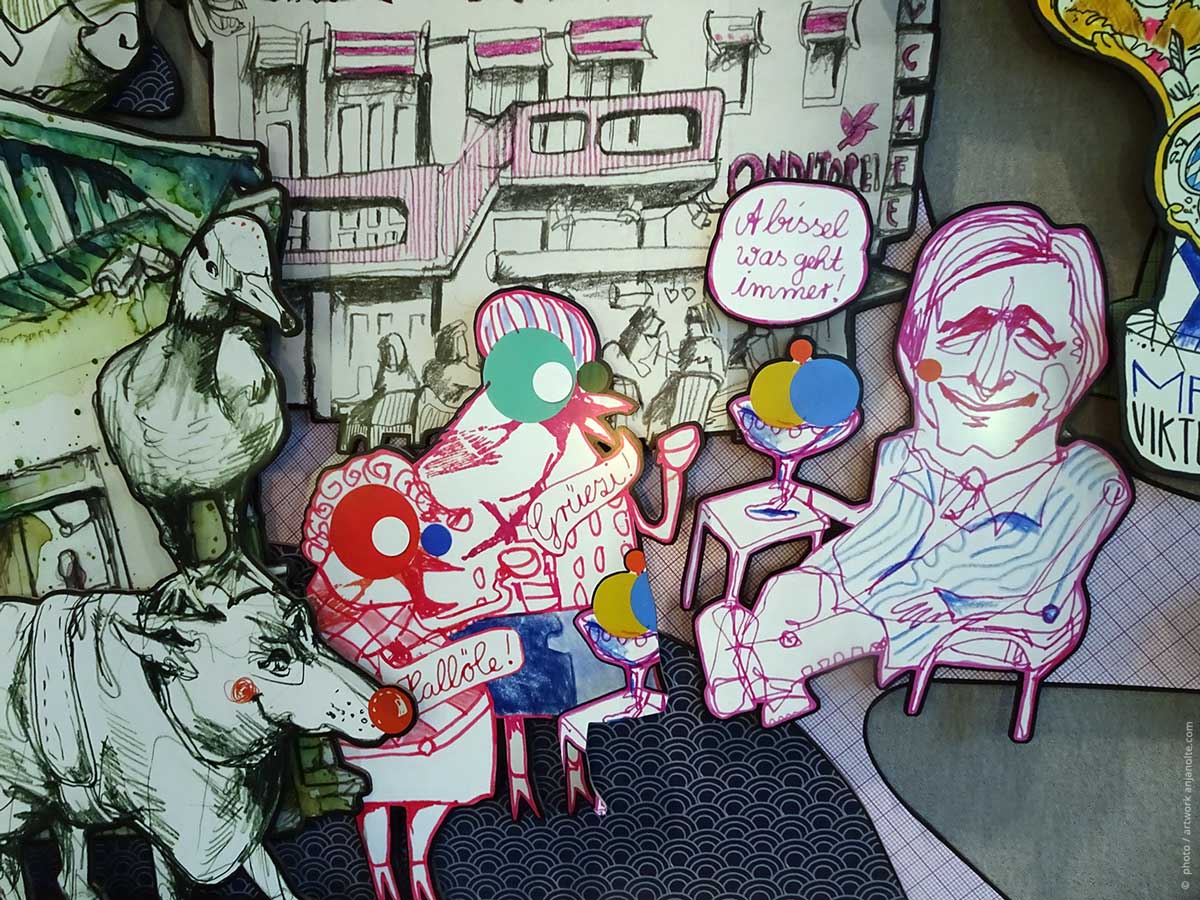 Besuchen Sie Friedensdenkmal mit charmanten Karyatiden, oder den Wiener Platz – mit Markt. Besonders lecker: der gebratene Oktopuss am dortigen Fischhäuserl, das niedlich Brunnenbuberl… Oder lieber zum Münchens berühmten Viktualienmarkt? Oder im englischen Garten wandeln, oder dem ewigen Stenz Helmut Dietl an der Münchner Freiheit begegenen? Oder ganz schnell reich werden – an der nahegelgenen Galopprennbahn Riem – Champagner, Champagner – wer weiß :-) Los gehts!
Walk the river and visit the peace monument with its charming caryatids, or Wiener Platz – with market. Especially tasty: fried octopus on the local Fischhäuserl, the cute Brunnenbuberl … Or rather to Munich's famous Viktualienmarkt? Or walk in the English Garden, or meet the eternal Stenz Helmut Dietl at the Münchner Freiheit? Or get rich quick – bet on horses at the Galopprennbahn Riem nearby – Champagne, Champagne – who knows :-) Let's go!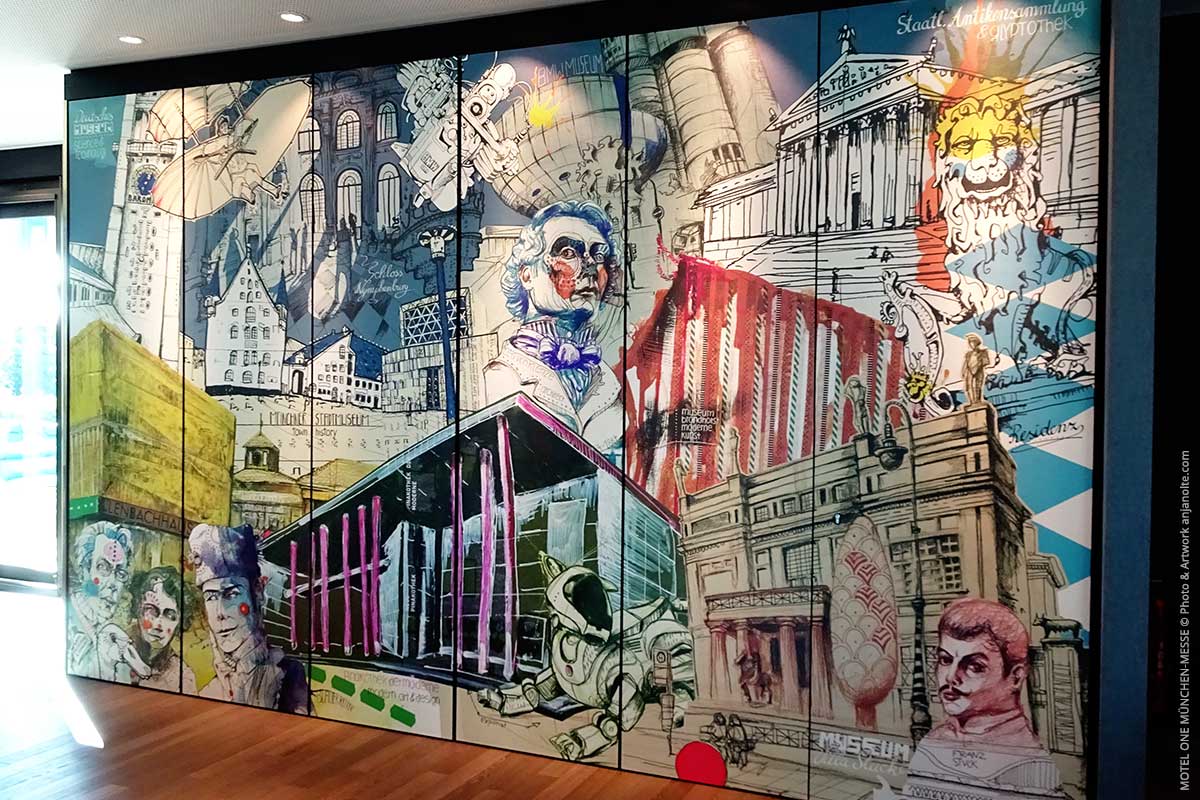 München Museen sind hochkarätig! Hier versammelt auf der Kunst & Kultur Wand in der Lounge. Ob Künstlergruppe "Blauer Reiter" als Münchner Wegbereiter der Modernen Kunst des 20. Jahrhunderts oder Stararchitekt Leo von Klenze – im Namen seines Auftraggebers Ludwig I. verantwortlich für Münchens wunderbaren Isar-Athen-Flair oder Münchner Malerfürst Franz von Stuck – bedeutenster Künstler des Symbolismus.
Munich's museums are top-class! Here gathered on the art & culture wall in the lounge. Whether artist group "Blauer Reiter" as Munich pioneer of modern art of the 20th century or star architect Leo von Klenze – in the name of his patron Ludwig I responsible for Munich's wonderful Isar-Athen flair or Munich painter prince Franz von Stuck – the most important artist of symbolism.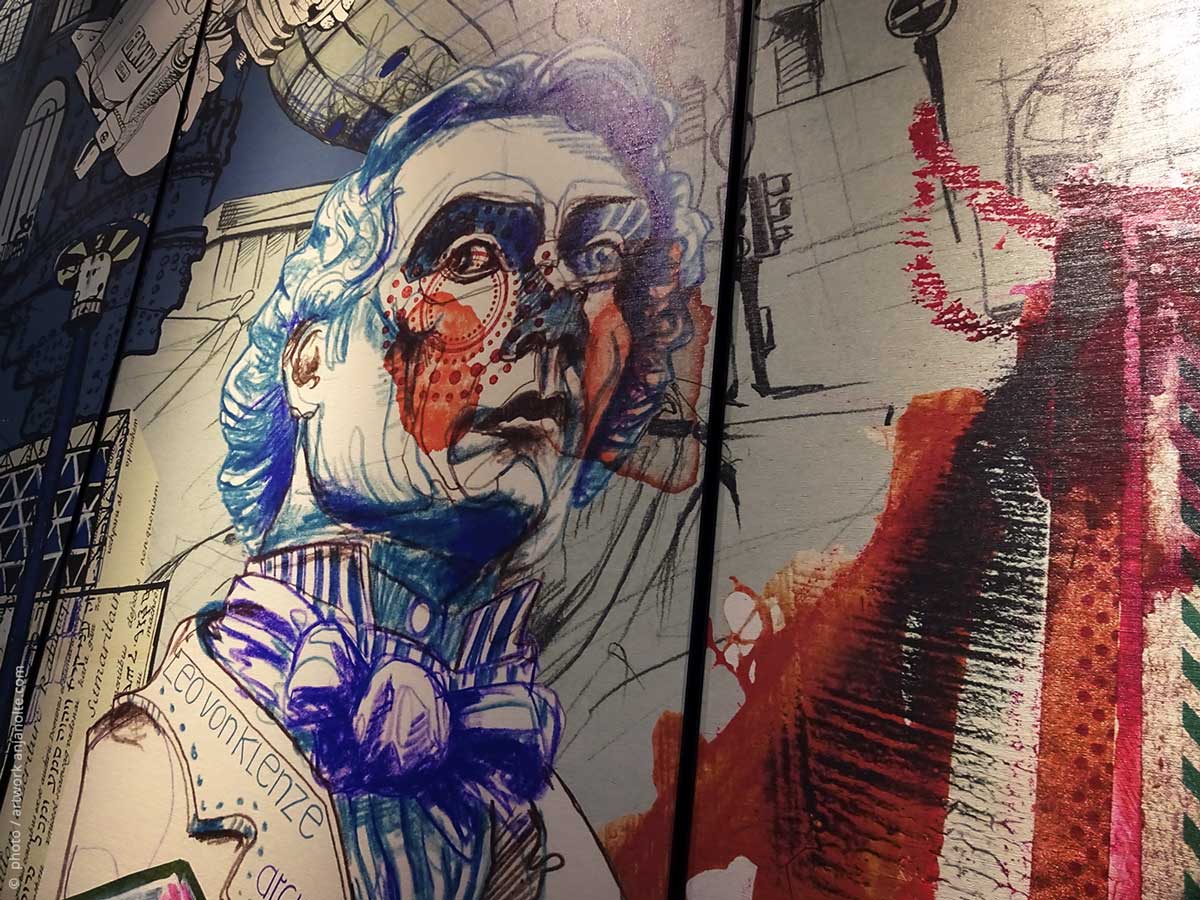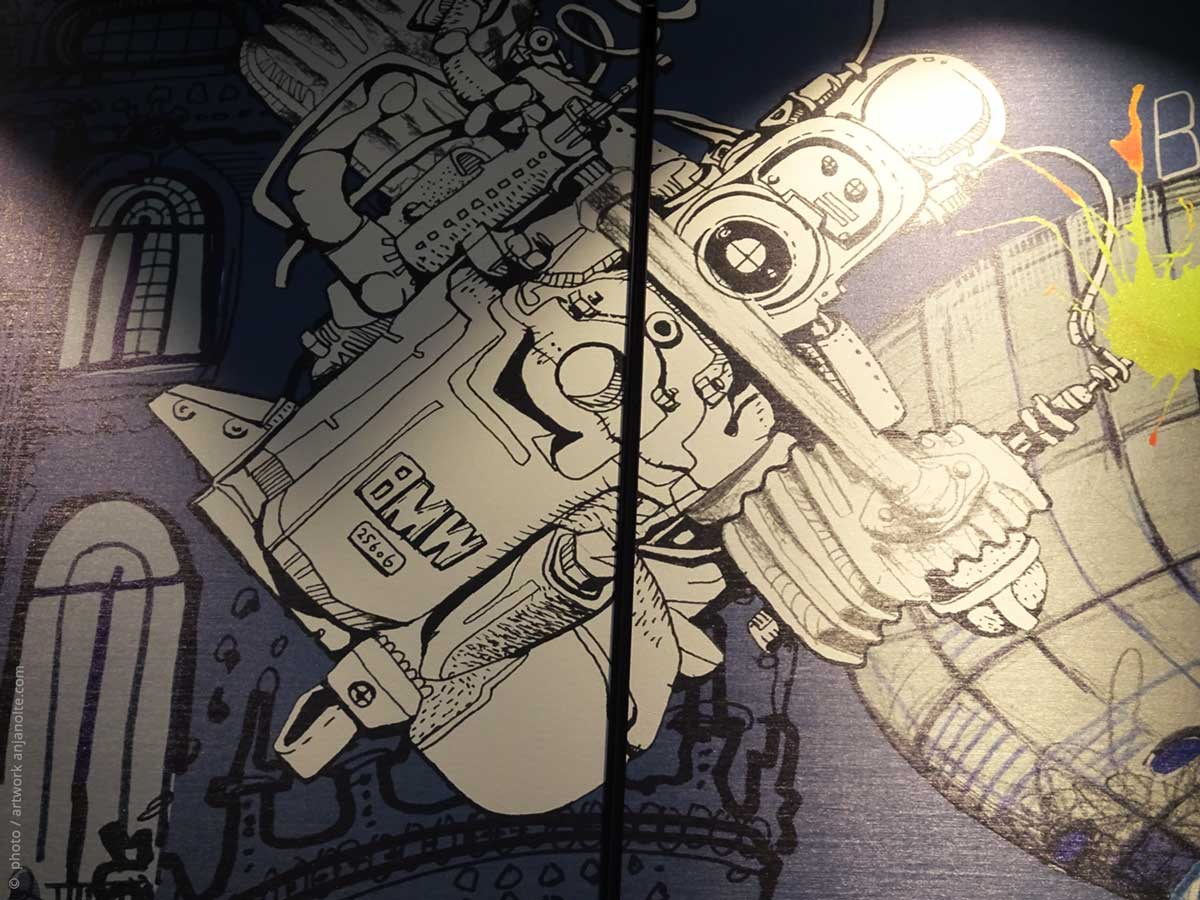 Ob Stadthistorie im Münchner Stadtmuseum, Pop Art und Twombly im Museum Brandhorst, Schlösser, antike Kunst am Königsplatz, die Pinakotheken mit Moderner Kunst und Design und,und,und… Bis hin zum ersten BMW-Motor – hier fliegt er – als Exponat des BMW Museums:-)
Whether city history in the Munich City Museum, Pop Art and Twombly in the Museum Brandhorst, castles, antique art on Königsplatz, the Pinakotheken with modern art and design and, and, and … up to the first BMW engine – here it flies – as an exhibit of the BMW Museum :-)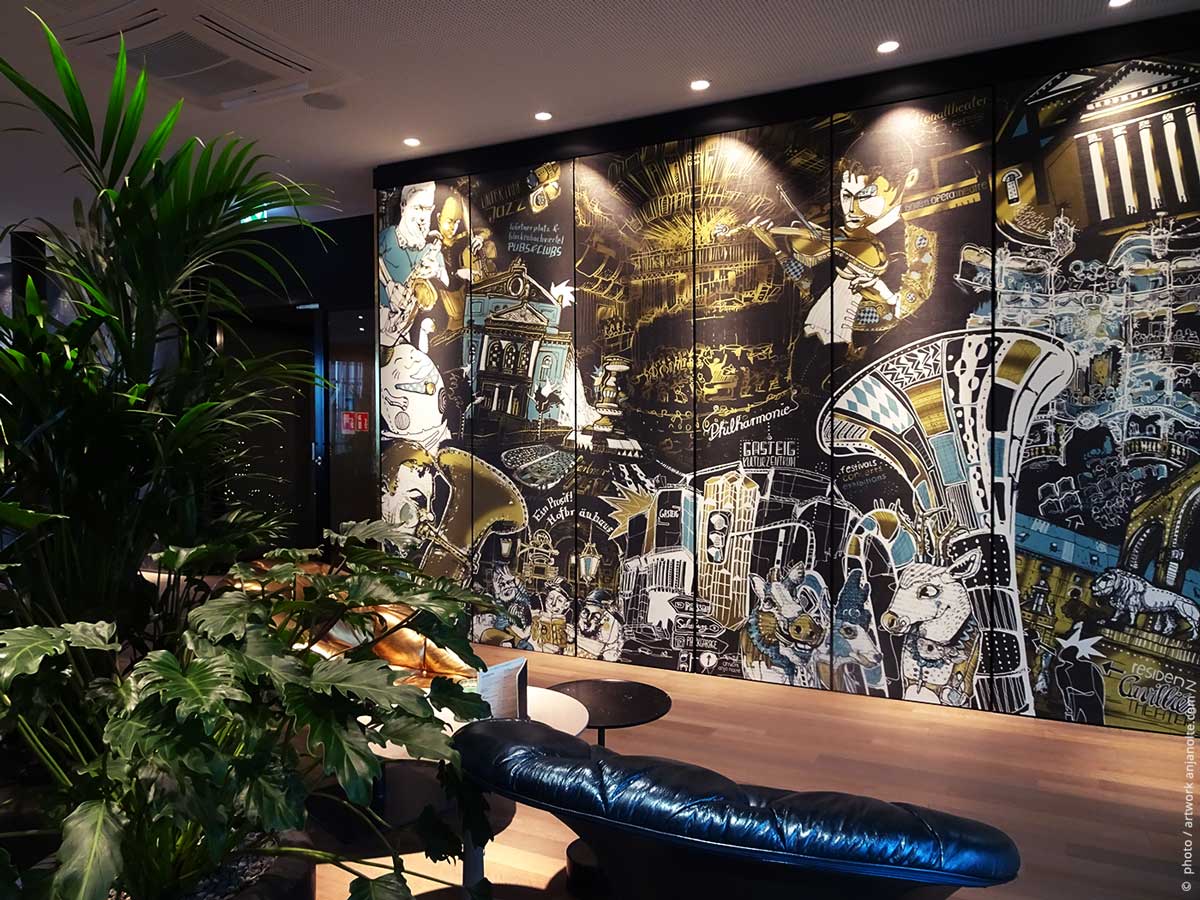 Das Tagesgeschäft erfolgreich absolviert – und jetzt? Entspannt zurücklehnen im urgemütlichen Freifrau Relaxledersessel auf dem Zimmer? Oder chillen im üpppig begrünten Innenhof? Oder aber ein entspannender Drink an der Bar mit Blick auf die München Nightlife Wand? Und sich inspiriert dann doch –noch – aufraffen:
The daily business successfully completed – and now? Sit back in the cozy, cozy woman's relaxed leather armchair in your room? Or chill in the lush green courtyard? Or a relaxing drink at the bar overlooking the Munich Nightlife wall? And then, after all, it's inspiring-still-to get up: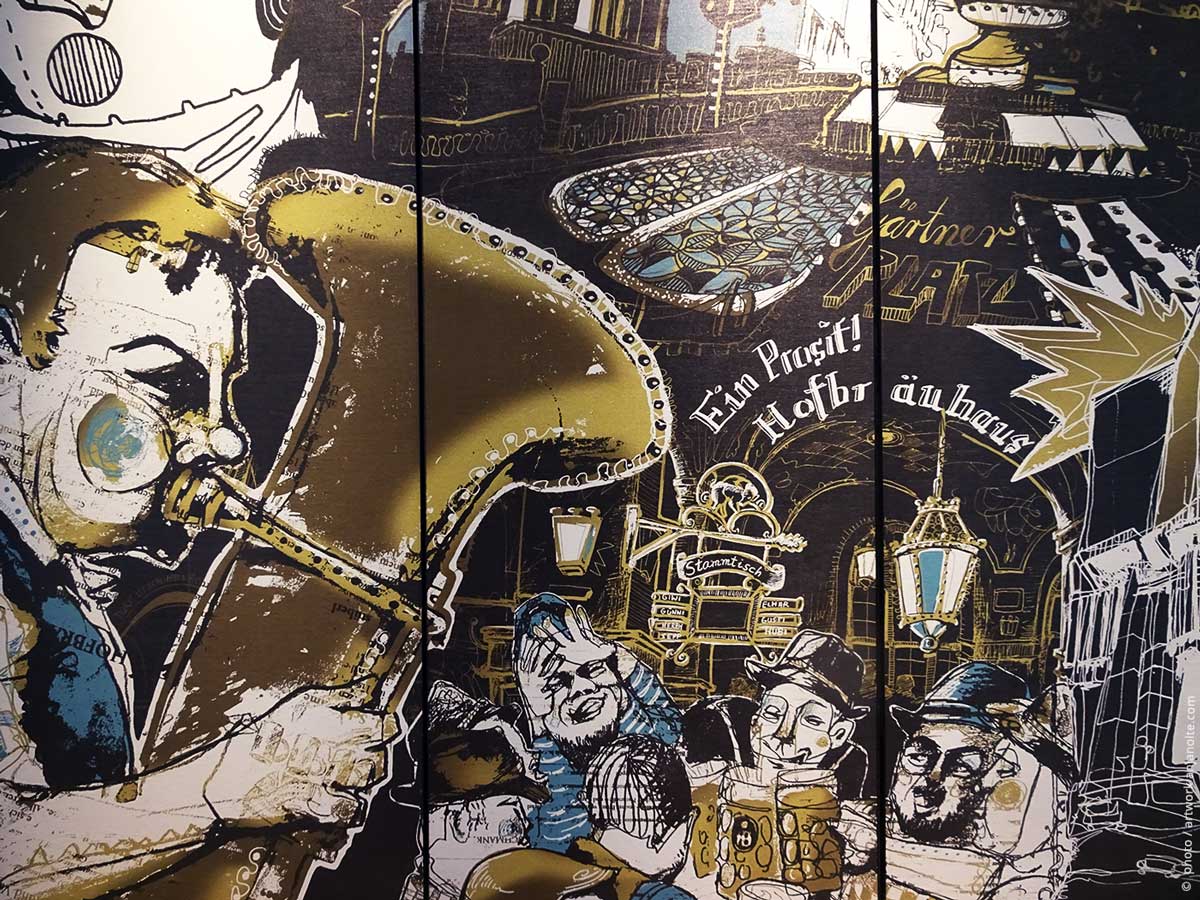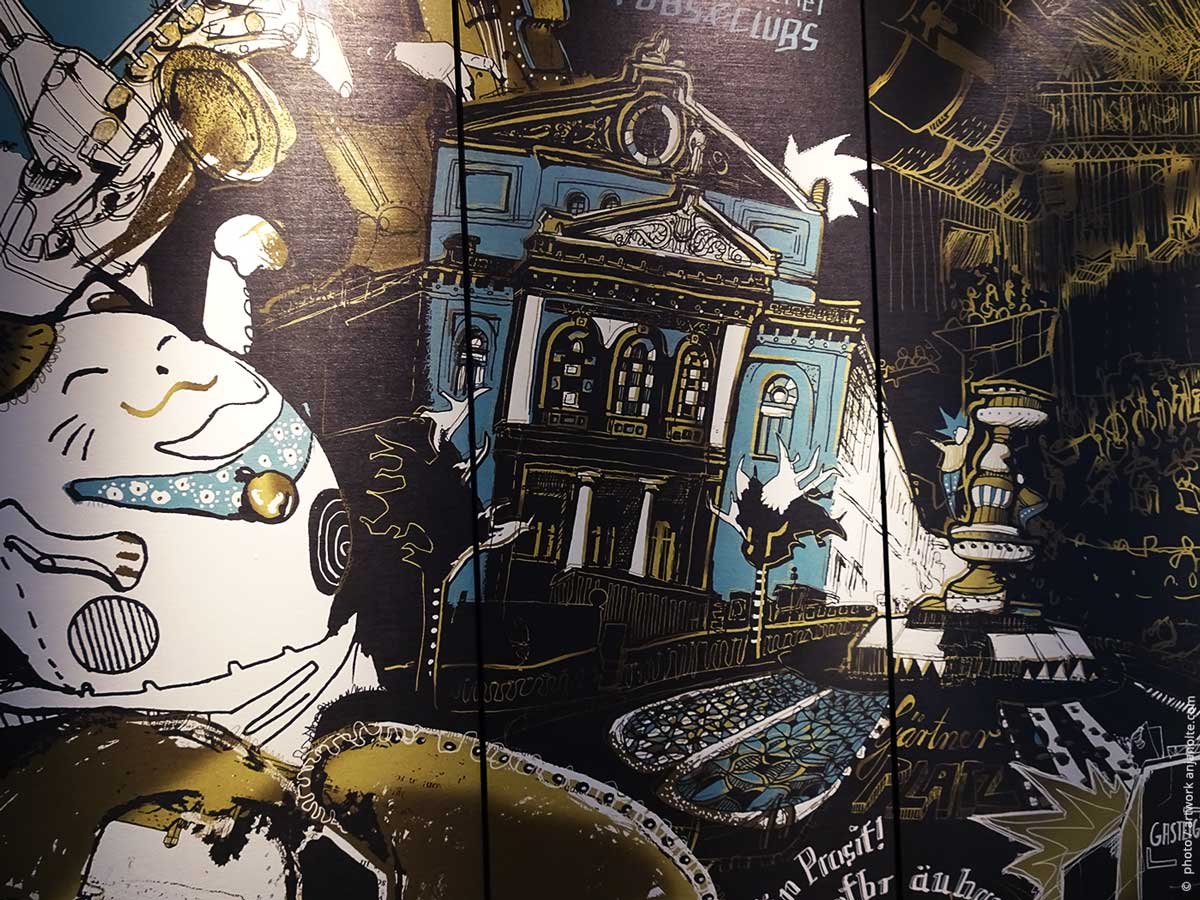 Zum Jazz im Unterfahrt, Konzerten oder anderen Kulturevents in der Philharmonie am Gasteig, Nationaltheater oder Cuvilliés-Theater, oder gleich um die Ecke im Szenerestaurant Nomiya – Bayern trifft Orient – speisen. Richtig auf die K…. hauen im Glockenbachviertel? Oder gerne "Ein Prosit" singend Bier in Maßen im Hofbräuhaus? Oder doch, einfach im Hotel entspannen – weils so schön ist :-)
Jazz in Unterfahrt, concerts or other cultural events in the Philharmonie am Gasteig, National Theater or Cuvilliés Theater, or dine just around the corner in the trendy restaurant Nomiya – Bavaria meets the Orient. Party in the Glockenbachviertel? Or would you like to sing "Ein Prosit" at the Hofbräuhaus? Or just relax in the hotel – because it's so nice :-)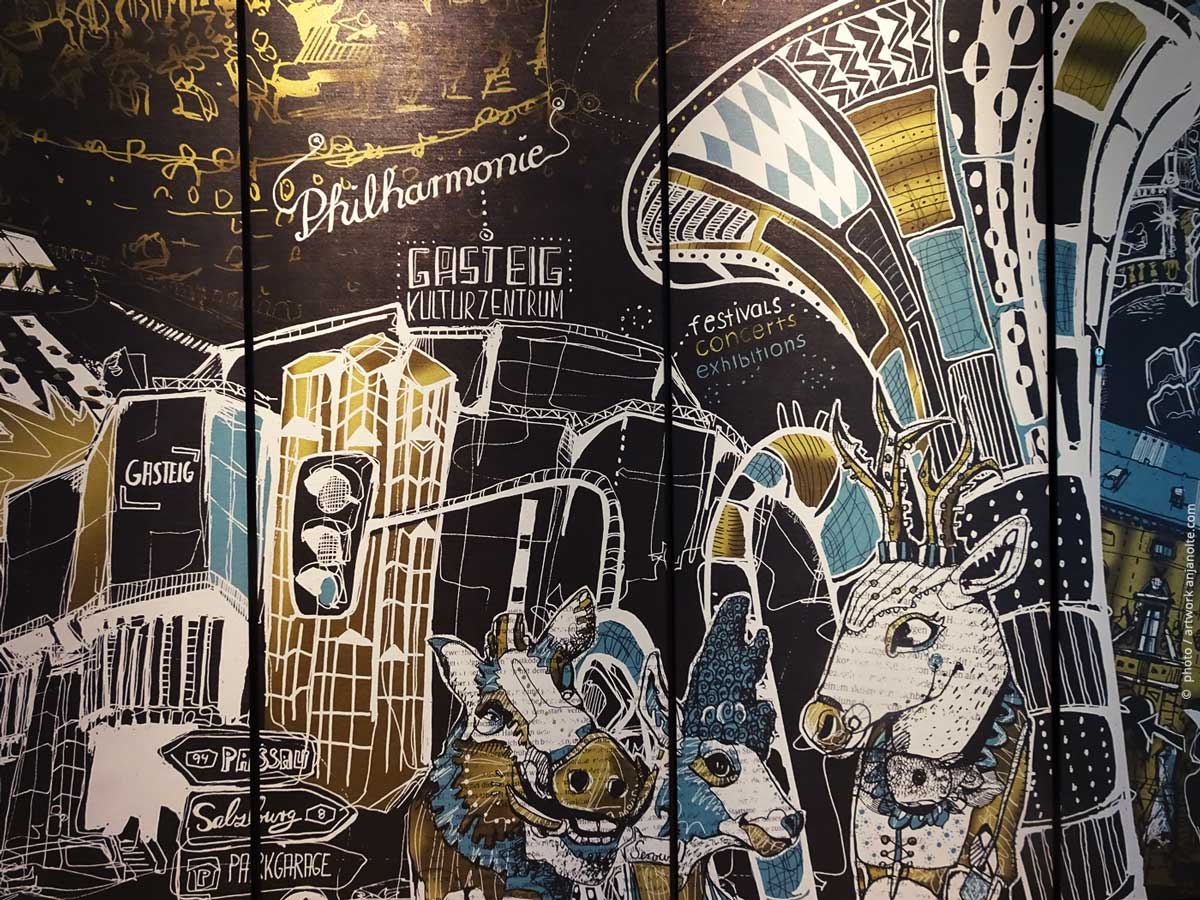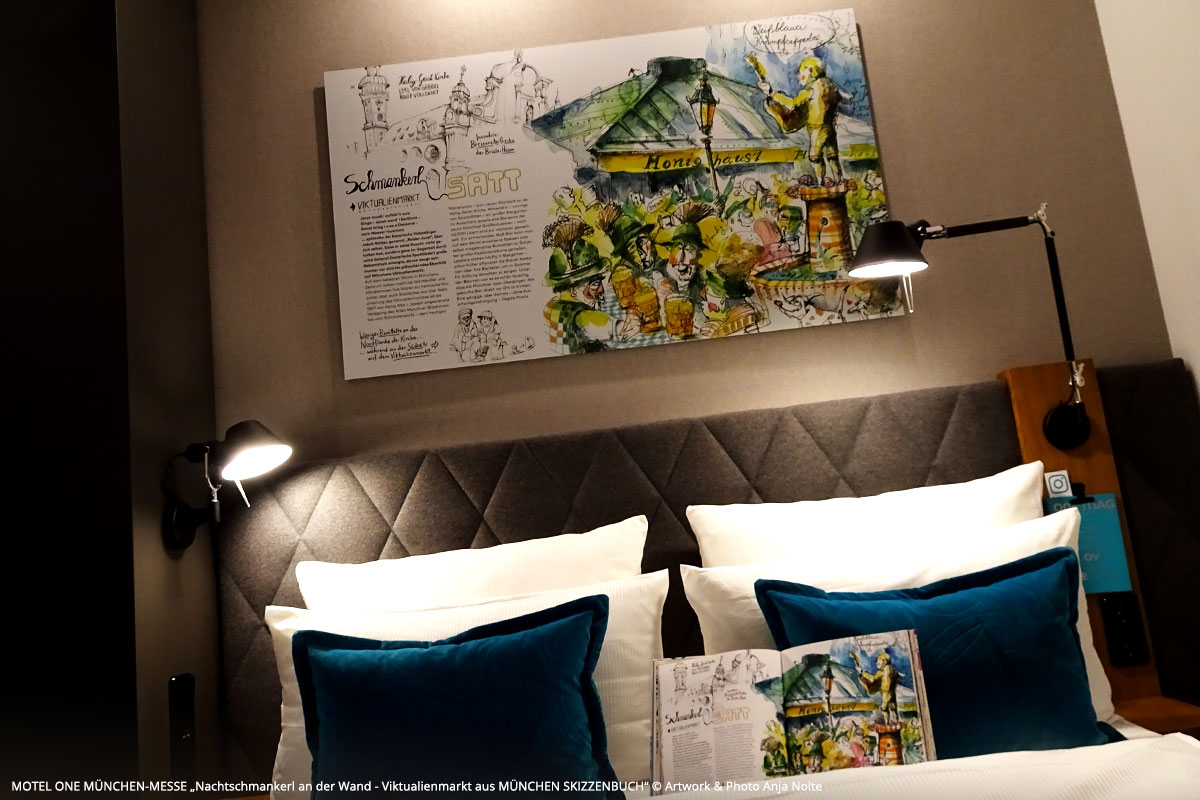 Irgendwann, dann – endlich – Bett, ich freu mich auf Dich! Aufatmen. Loslassen. Energie tanken für den nächsten Tag. Als Nachtschmankerl überm Bett: Münchner Anekdoten, etwas Hintergrundwissen – nicht zu viel, Sie sollen ja noch schlafen können :-) Drei Doppelseiten aus Noltes Buch über München schmücken hier die Wände.
At some point, then – finally – bed, I'm looking forward to seeing you! Breathe. Let go. Recharge your batteries for the next day. As Nachtschmankerl over the bed: Munich anecdotes, some background knowledge – not too much, you should still be able to sleep :-) Three double pages from Nolte's book on Munich decorate the walls here.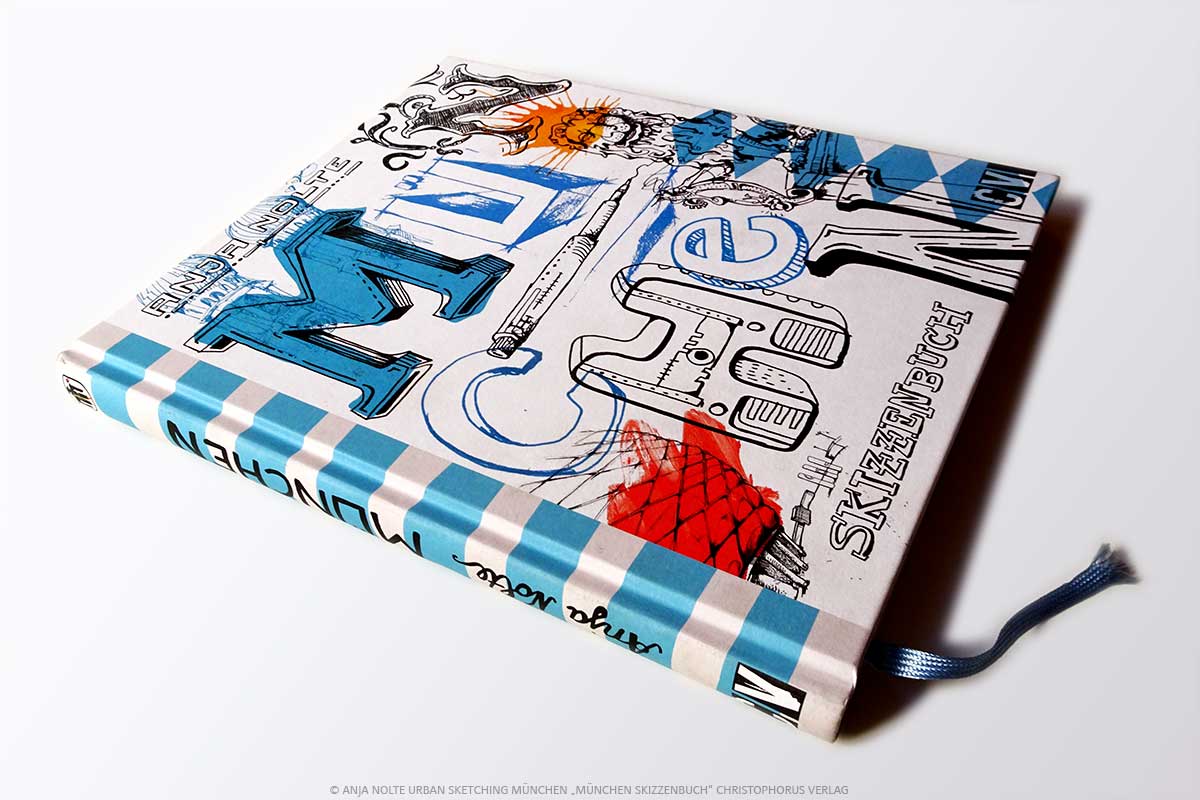 Alle Artworks stammen aus Noltes Buch Urban Sketching München (München Skizzenbuch). Detailverliebt, fantasievoll, überraschend anders. Ein humorvoller und vielschichtiger Reiseführer durch München, der neben allen Highlights der Stadt eine Fülle an Anregungen, Tipps & Infos für alle Kreativen und Münchenfans bietet. Ein Buch, nicht nur für Münchenliebhaber und solche, die es werden wollen, sondern auch für Menschen die allgemein an Kunst und Kultur interessiert sind. (Christophorus Verlag)
Das Buch ist mit dem Joseph Binder Award 2018 SILVER ausgezeichnet worden. Im Buchhandel ist es unter dem Titel München Skizzenbuch oder auch Urban Sketching München erhältlich. Hier können Sie vorab einen Blick hineinwerfen.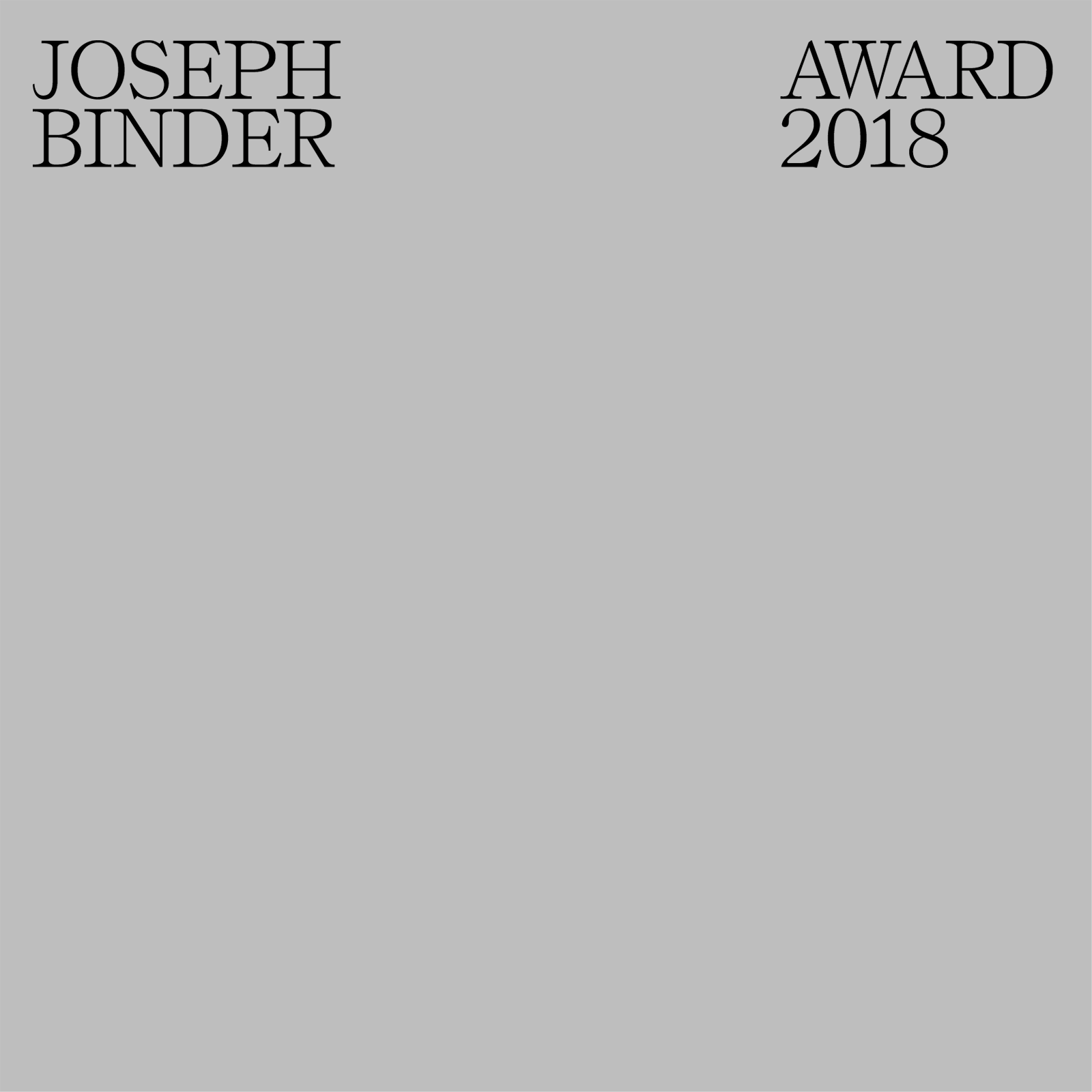 All artworks are from Nolte's book Urban Sketching München (München Skizzenbuch). In love with detail, imaginative, surprisingly different. A humorous and multi-layered travel guide through Munich, which offers a wealth of suggestions, tips & information for all creatives and Munich fans in addition to all the highlights of the city. A book, not only for Munich lovers and those who want to be, but also for people who are generally interested in art and culture. (Christophorus Verlag)
The book has been awarded with the Joseph Binder Award 2018 SILVER. In the book trade it is available under the title München Skizzenbuch or Urban Sketching München. Here you can take a look in advance.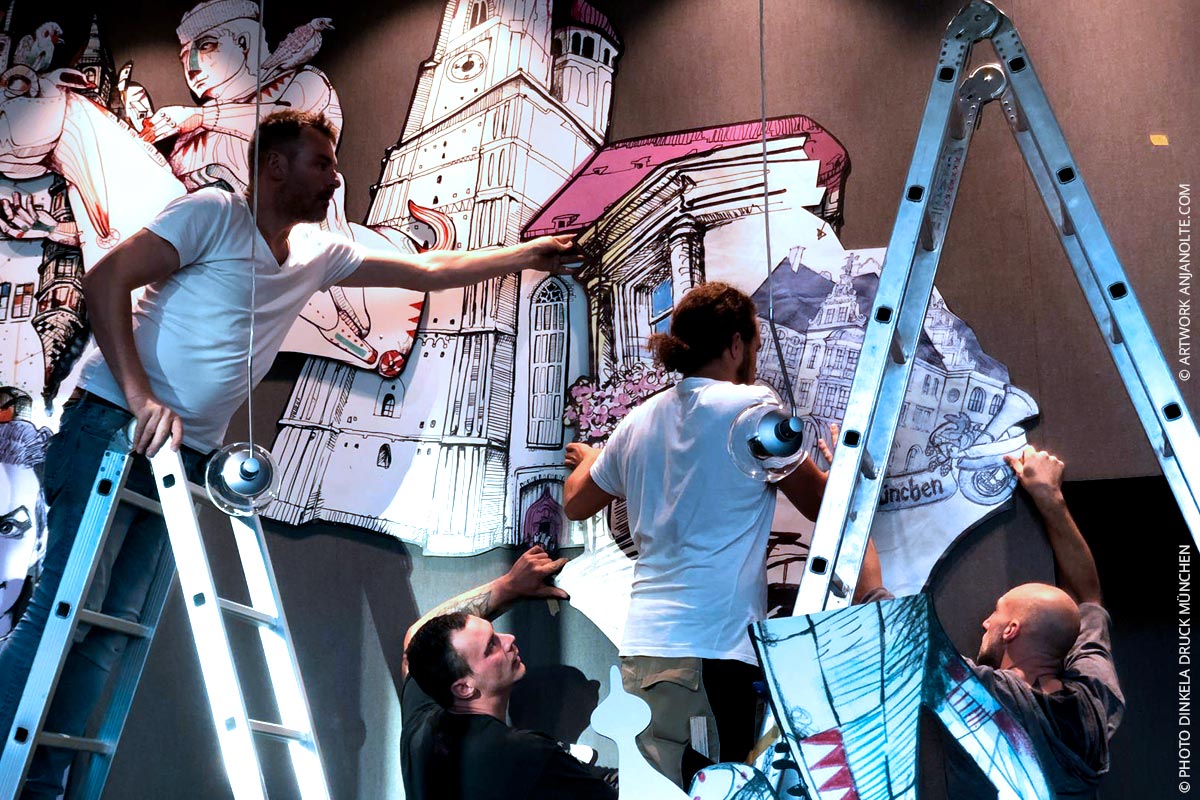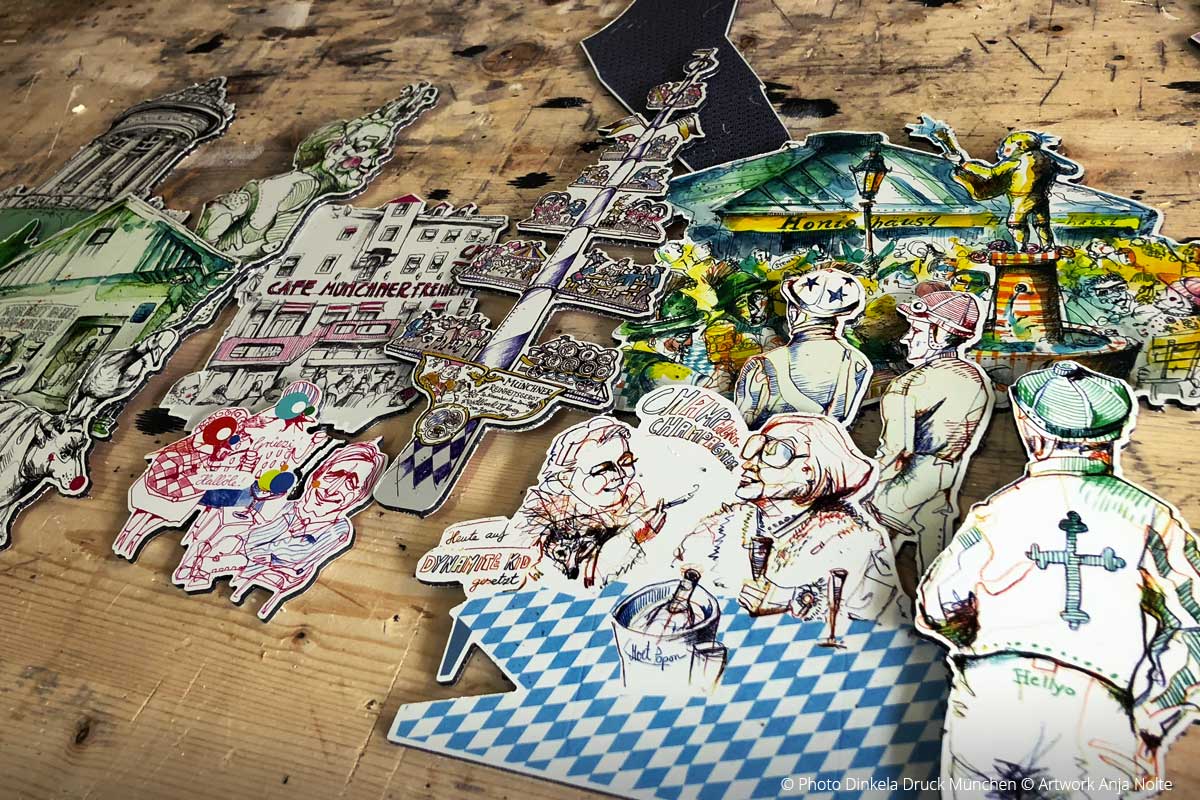 Ein herausforderndes und wunderbares Projekt, das wohlkoordiniertes Teamplay der involvierten Fachleute erfordert und mit sich bringt. Die das Projekt leitende Innenarchitektin, Drucker, Schreiner, Monteure, sowie meine Kompetenzen als Gestalterin.
VIELEN DANK an: Svenja Hansen (Director Interior Design Motel One), Malte Dinkela (Dinkela Druck München), Susanne Zaha (Managerin Motel One München-Messe) und das charmante Hotel-Team. An meine Agentin Margarethe Hubauer International Illustration und natürlich MOTEL ONE für die Beauftragung.
Dinkela Druckteam – flinke Monatge an der Rezeption.
A challenging and wonderful project that requires and brings together the well-coordinated team play of the professionals involved. The project's interior designer, printer, carpenter, mechanics and my skills as a designer.
THANK YOU very much to: Svenja Hansen (Director Interior Design Motel One), Malte Dinkela (Dinkela Druck München), Susanne Zaha (Managerin Motel One München-Messe) and the charming team from the reception. To my agent Margarethe Hubauer International Illustration who coordinated things – as allways – in her wonderful manner. And of course thank you MOTEL ONE for the assignment.